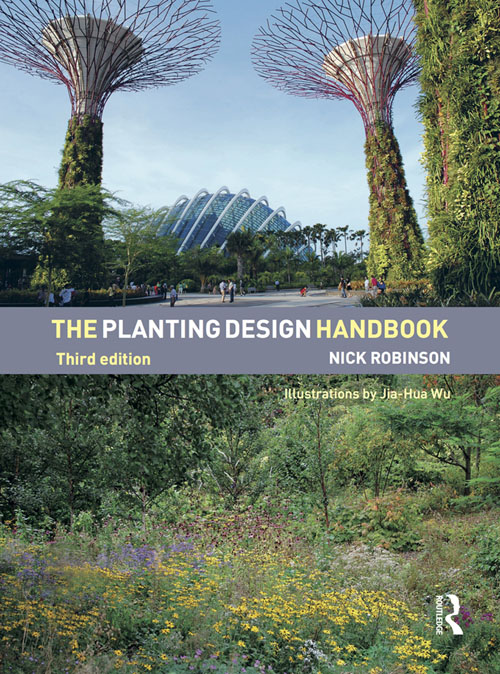 First published in 1992, Nick Robinson's Planting Design Handbook has since become widely used as a definitive text on landscape architecture courses throughout the world. It examines the horticultural, ecological and aesthetic characteristics of plants, discusses the structural and decorative roles of planting, spatial composition, species selection, planting plans and spacing, and the vital role of management. With its fresh look at aesthetic principles and its analysis of the design process, it reveals how a systematic approach can allow the greatest freedom for the creative imagination.
This second and third editions are fully revised and updated, taking account of developments in professional practice and reflecting a variety of media and approaches currently used. It incorporates conceptual design approaches to planting, a range of design methods as well as tried and tested analytical and objective procedures, and a wide range of new international examples of planting design. The ecological basis for planting design has been broadened to include examples from warm temperate and subtropical vegetation types as well as those of the cool temperate and Mediterranean climate area.
Contents:
Part I: Principles: Why design?; Plants as a medium for design; Spatial characteristics of plants; Creating spaces with plants; Composite landscape; Visual properties of plants; Principles of visual composition; Plant assemblages. Part II: Process: A method for planting design. Part III: Practice: Structure planting; Ornamental planting; Conclusion; References and further reading; Index.
Reviews of the third edition:
Ever since its first edition, I have regarded The Planting Design Handbook as the standard work on the method and process of planting design. But it is far more than that and stands as an excellent and clear introduction to the principles of spatial design in its own right. As a long-standing text, the book stands outside of the vagaries of any prevailing fashion or trend. While holding on to its key strengths, this latest edition has been thoroughly overhauled and updated to include current ecological and environmental approaches to designing with plants that pervade the whole book, and it is illustrated throughout with classic and contemporary examples. This book is an essential requirement for practitioners and students of landscape architecture and garden design: a highly intelligent, rigorous and practical guide to the art, science and ethics of planting design.
Professor Nigel Dunnett, Department of Landscape, University of Sheffield, UK
It has always been difficult to find academic texts on planting which do more than explore the horticultural qualities, or just identify the aesthetic qualities of plants; this book does that, looking beyond the aesthetics of planting as a medium. The first two editions introduced the now well established section on Design Methodology, ensuring planting design is rightly part of the wider spatial design process. With the addition of new sections on herbaceous, wildflower and naturalistic perennial planting, this third edition of Nick Robinson's Planting Design Handbook is now the most comprehensive and engaging volume on the use of planting as a design medium.
David Booth, Faculty Head of Quality and Standards, University of Gloucestershire, UK
The Planting Design Handbook can be ordered online at Ashgate or Amazon.co.uk
This title is also available as an eBook, ISBN 978-0-7546-8000-0